Motorcycle & Leather Weekend: Hillside has a devoted and dedicated leather community and it is from this community that the Mr. Hillside Leather and Hillside Leather Boy contests and party sponsored by the NE. Pa. Leathermen will take place Saturday afternoon at the Rec Hall. The vigor that is put into this one activity is awesome and hopefully you will be there to see your colleagues compete. Click HERE to view the poster.
As we get closer to the contests you may pick up an entry form to become a leather contest candidate. We hope to post the form here when it is available. Also you may pick up a form from the office or the Rec Hall.
The winner will represent the camp in several important activities and enjoy representing one of the largest gay camps in North America.
If you have a bike be sure to bring it and join the annual bike run that begins and ends at Hillside just in time for aSaturday afternoon party.
(from Hillside Campground web page)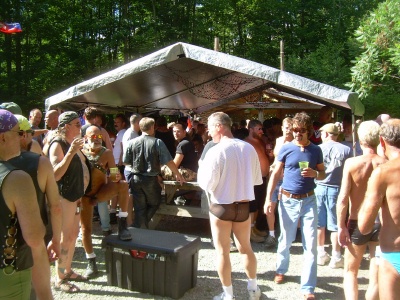 The Ravens have made an annual pilgrimage to Hillside on this weekend since 1993 — it was our first off-Island activity. It has become an important brotherhood event for us and our friends from the leather community.
Help us to continue our 21st Anniversary Year celebration by joining us again at the campground.
This year (as for the last several of years) we have reserved Site 60, both the upper and lower levels. This is a large site, with a covered cooking pavilion and immediately adjacent to a restroom and shower facilities. Tent sites are first-come. If you prefer a more bucolic atmosphere and privacy, we suggest camping on the upper level.
We will be kicking off the weekend on Friday Night with our infamous camp-wide open invitation COCKtail party with large screen video. We also provide play areas available all weekend.
All meals are provided, from a light supper Friday evening through Sunday's breakfast. While the Ravens do the cooking, we would hope to see help from our guests.
Cost is $60 PLUS campground fees. (Visit Hillside Campground for information). Even if you are paying by check, we'd appreciate your placing the reservation through the store. While Ravens "site 60" reservations are to be made through us -- we feed reservation information to the Hillside staff -- Hillside Campground fees are paid directly by you to the camp on check-in. Hillside Campground staff will not check you in to Site 60 unless you are on the Ravens registration list.
Cost covers meals, booze and beverages (including the open cocktail party), ice, campfire wood, and group incidentals.
Cut-off date for reservations is July 6th. Because of cooking logistics and meal seating, we are limiting attendance to 40.
For more information, please use our Contact Us page. The store manager will forward you inquiry to the appropriate Ravens Brother.