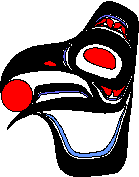 Volume:
Motorcycling




Throughout this site this icon indicates a note. Clicking it will take you to or return you from the note. Your browser will have to be JavaScript enabled -- most are.
Between the log-type rolex replica log-type watch is the most popular models, although in appearance, the new and old almost no replica watches difference, but 3235 movement advantage is very obvious, more accurate and stable, the use of more Rolex technology replica watches uk patents, power reserve is also raised to 70 swiss replica watches hours, but in the price, but almost no change.
â°?-2010
John B. Deitz
Build: 100521.2


And Trip South to Savannah and
Knighthawks of Virginia 4th Anniversary Run
June 7 - June 22, 1998

| | |
| --- | --- |
| | Traveled over 3200 miles in 16 days. |
| | Left Sunday, June 7th for Milwaukee, returned Monday, June 22nd. |
| | Had a wonderful time at the Harley-Davidson 95th and Harley Owners Group (HOG) 15th Anniversaries. |
| | Made new friends in Milwaukee. |
| | Saw more rain than normal for my little jaunts. |
| | From Milwaukee went south to a very hot Savannah. |
| | Then up along the coast to Norfolk. |
| | Renewed new friendships in Norfolk, |
| | And arrived back in Brookhaven on Monday, June 22nd. |
I'm especially appreciative of my hosts in Milwaukee -- Larry and Joe, Papa Joe, and all the Milwaukee Area Great Lakes Harley Riders; they were great and made for a truly fun time in beer town (and Harley town).
That's it in a nutshell, and unless you are curious about details, stop reading here.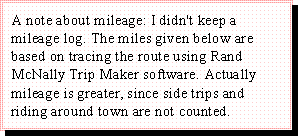 Trip log:
Sunday, June 7th: Long Island to Lewisburg, PA --The L.I. Ravens MC marched in the Queens Gay Pride Parade, and I left from there about 3 p.m., going as far as Lewisburg, PA on Interstate 80. Started to rain as I left Queens, with intermittent rain showers from the Triborough to Lewisburg. Just teasers, and never quite enough to break out the rain-gear. Day total miles = 250.
Monday, June 8th: Lewisburg to South Bend, IN. -- Beautiful day. Interstate 80 through Pennsylvania is one of the most beautiful Interstate routes in the East. Met first bikers on their way to Milwaukee -- from Scranton, PA. The Ohio & Indiana Turnpikes are best compared to the New Jersey Turnpike, only with monster trucks. Bikers on the highway steadily increase as I go west. Decide to spend the night in South Bend. About 10 other bikers on their way to Milwaukee also staying at the motel. Day total miles = 540. Accumulated miles = 790.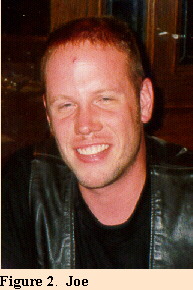 Tuesday, June 9th: South Bend to Milwaukee -- Woke up to heavy rain. Weather channel seemed to indicate that it would clear up later in the morning, and it did. Delayed leaving until about 10 a.m. Skies cloudy, but no rain. Decided to take I-94 north www.poloralphlaurenaustralia.biz through downtown Chicago -- a mess!! Traffic and construction. All my white knuckle skills learned driving in the NY Metro area were put to full test. (Learned later from others that all paths through Chicago are the same).


Just as I cleared Chicago, what had been a light drizzle turned into heavy rain, and for the first time was forced to don the rain-gear. Heavy rain all the way to Milwaukee. Thousands of bikers on I-94 heading north! We were everywhere.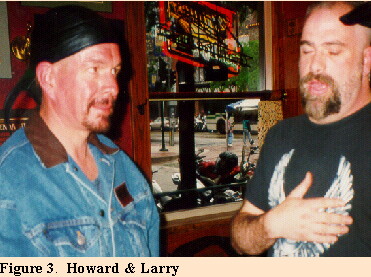 Arrived about 2 p.m. at Larry and Joe's, my hosts for the week -- members of Great Lakes Harley Riders. Also met Howard, member of the Border Riders MC, from Yakima, WA who arrived on Monday. Settled in. GLHR had a mixer for all the gay bikers at a local bar that evening. Howard seemed to have come the greatest distance (Howard traveled over 1900 miles!). Day total miles = 185. Accumulated total miles = 970.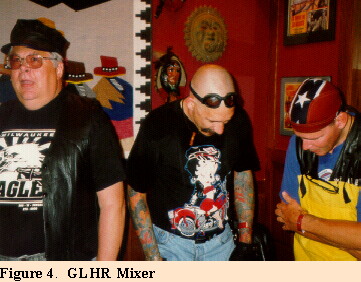 Wednesday - Friday, June 10 - 12th: HOG Rally -- Attended HOG (Harley Owner's Group) Rally at State Fairgrounds. Tens of thousands of hogs and bikers from all over the world. I had a great time taking pictures, talking to strangers, listening to music, etc. Each night the GLHR had a mixer at different bar. Also went to street fairs being held at different locations in the city. Constant roar of bikes all day and well into the night.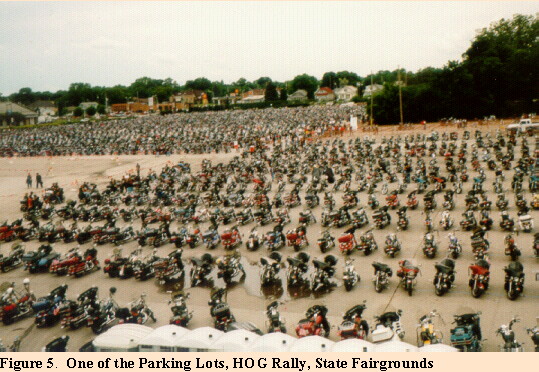 The people of Milwaukee were great -- most hospitable. They'd wave and say hello all over town, regardless of neighborhood. Visited one of the H-D Factories and their headquarters. Also took one afternoon and went outside the city to the countryside. Rain showers at the most inopportune times (is there ever an opportune time for rain when your riding?) -- but it never seemed to dampen spirits.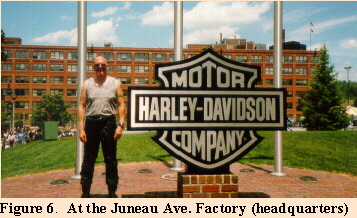 Saturday, June 13th: H-D 95th Anniversary Celebration -- Awake a 5 a.m. and to Papa Joe's of GLHR to assemble for the big Harley parade. They closed I-94 and downtown streets. First 25,000 bikes allowed in. Stop-and-go-and-wait to get in the lineup. Howard's battery went dead, and he had to drop out.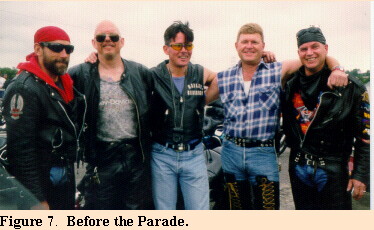 Five of us ended up being in the parade, and, as far as I could tell, I was the only one in the entire parade with a rainbow flag (of course, I didn't see every bike).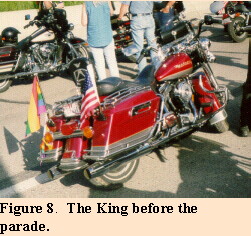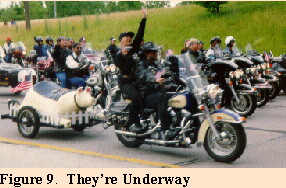 Jay Leno, H-D management, and others led off the parade. Thousands on overpasses and lining the way. Downtown was 10-deep. A little like a NYC Gay Pride march for bikers. The phrase "rolling thunder" does describe the sound. Awesome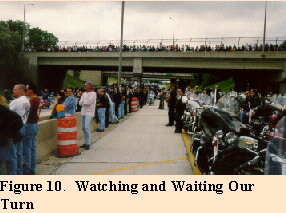 Ended up at the SummerFest park on Lake Michigan around noon. Great experience, but very hard on the bikes. Much overheating. Harley's are just not made for slow stop-and-go traffic. I didn't stay too long at the festival, although there were great bands and other entertainments. But I was tired, and instead cruised Water Street (one of the main downtown streets) with the rainbow flag for a bit before going back to Larry and Joe's. They'd planned a play party for Saturday night, and I needed to pace myself (O.K., as some of you have probably predicted by now, the attempt at "pacing myself" was doomed to failure. Unfortunately, Howard had a predilection for Bombay Sapphire Gin, which is also near the top of my list, so ...). Anyway, Joe and Larry built an excellent play space in their basement. And it was a fine party, even though I bowed out earlier than most.
Sunday, June 14th: The Day After -- A new day. Howard started off for home about 10 a.m. Two others from Ohio (I think) had left early (about 8 a.m.). Those of us who remained went to brunch.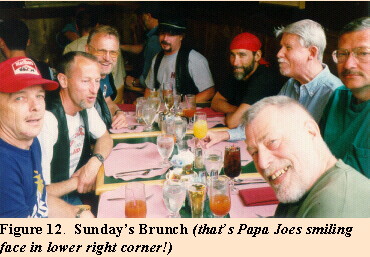 After brunch I took a short ride along Lake Michigan, and noticed a serious oil leak at the base of the push rods. Got back to Joe's & Larry's much depressed. Having gone through several bad seals on the FXR (bike # 1), I was fearful that this would prevent me from finishing the trip as planned. I watched television and was generally bitchy. Joe and Larry kept their distance -- perceptive souls.


Monday, June 15th: Milwaukee to Urbana, IL. -- Called the local Harley dealer and took it over there first thing in the morning. Most accommodating! They looked at it right away, and decided that tightening some bolts was all that was required. Also notice as screw missing in the fuel injection assembly that was causing air leakage and poor mileage. While there had an oil change. Out by noon! Only $45, certainly not East Coast prices! Felt much elated!
Packed up and left Milwaukee about 2 p.m. Decided to bypass Chicago by taking a more westerly route south, through Rockford and Bloomington IL. At Rockford, started to rain, with threatening clouds to the south, one a precursor funnel. Put on rain gear, but it soon cleared up. Spent the night at Urbana, IL. and while out to dinner it started to rain again. Day total miles = 285. Accumulated total = 1254.
Tuesday, June 16th: Urbana to Chattanooga, TN. -- Rained all night and still raining in the morning. Had planned to go to Indianapolis before heading south again. But the Weather Channel showed heavy rain cells in that directing, with lighter rain to the south, so decided to take I-57 south. Rain for about 100 miles. Then sun. Good choice. Took off rain gear at the Ohio River crossing. Hot and sunny. Terrible traffic in Nashville (everything is still under construction, same as in 1996 when I last went through). Got as far as Chattanooga, TN. Had a pleasant conversation with a truck driver and his "significant other" at dinner. Day total miles = 513. Accumulated total = 1767.
Wednesday, June 17th: Chattanooga to Savannah, GA. -- I had planned a scenic route through the mountains of Tennessee and rural Georgia, but was at least a half-day behind schedule because of the oil leak and longer route around Chicago, so I instead decided on an easy run to Savannah, GA. Even going through Atlanta wasn't bad. Hot but uneventful. Lot's of forests in Georgia; I expected more farmland.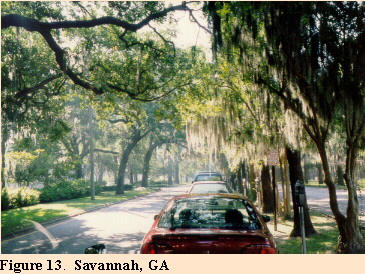 Got to Savannah about 4 p.m. Looked the city over and decided that I would spend the night. Ended up at a motel across the street from the local Harley dealer. The Harley manager directed me to several interesting places in Savannah. Had a disappointing dinner on the waterfront (overpriced for quality and poor service). Visited the two gay bars in town -- both unassuming, and both dead (weekday, early evening?). Beautiful city, at least in the old historic section. Bad smog! Day total miles = 367. Accumulated miles = 2134.
Thursday, June 18th: Savannah to Jacksonville, NC. -- Plan now is to basically take US Route 17 up along the coast to Norfolk, with a few side excursions. First 60-70 miles from Savannah was truly rural, and Beaufort, SC is a beautiful southern city. But after that it's resort, resort, resort. Not clear to me why anyone would leave the congestion and traffic of New York for the traffic and congestion of Myrtle Beach. I concluded that I was 25 years too late on this trip. Spent the night in Jacksonville, NC, just outside Camp Lejeun. Had dinner in what was apparently a favorite hangout for the Marines. Mediocre meal, good views. Was I ever so young? Day total miles = 331. Accumulated miles = 2465.
Friday, June 19th: Jacksonville to Norfolk, VA. -- Original plan was to take a ferry to Cape Hatteras, but I was still behind schedule and would have had to leave very early to catch the morning ferries. So instead decided to ride around to Roanoke Island to Nags Head, NC. Good choice. After Jacksonville, countryside became rural again, Left Route 17 at Washington, NC and headed through the Great Dismal Swamp to Roanoke Island. Great ride. Swamp was very interesting, and the people who live there seemed even more so. At Roanoke Island, suddenly traffic. Not sure where they came from, since for several hours hadn't seen more than a dozen vehicles. Again, resorts and traffic! And a sudden heavy shower at Nags Head caught me unawares. Rained so hard I had to pull off at a local gas station. Stripped off my wet shirt, and into the rain gear. Rain and drizzle from there to Norfolk. Roads in Norfolk are a bit confusing; west is really north, etc. Arrived at the Knighthawks' of Virginia Anniversary motel about 4 p.m. Day total miles = 298. Accumulated miles = 2763.
Saturday, June 20th: Norfolk -- Perhaps 150 at the Knighthawks' Run. Motel is right on the Chesapeake Bay. Lot's of cocktail parties. Hot weather and men. Nice beach. Good dinner. And a pleasant midnight sail on the Chesapeake Bay. Renewed old acquaintances. 12 Ravens', pledges, and groupies present. Richard flew down for weekend -- first time we'd been together for nearly two weeks, and essential play and leather gear came with another Raven.
Sunday, June 21st: Norfolk to Cape May: -- Brunch was at 11, and awards, etc. at about 1 p.m. Left for trip home about 1:30 p.m. Took Chesapeake Bay Bridge/Tunnels to Eastern Shore of Virginia & Maryland, then up along coast to the Cape May Ferry from Delaware to New Jersey. Ferry ride is about 70 minutes; foggy so couldn't see much. Several other bikers on the ferry, including three couples on their way to Canada. Arrived in Cold Spring/Cape May about 6 p.m., and decided to spend the night rather than go through NYC on a Sunday night when tired. Went into Cape May for dinner. Cape May is an old resort community careful of it's development and retains much of it's Victorian charm. Day total miles = 189. Accumulated miles = 2952
Monday, June 22nd: Cape May to Home: -- Had a leisurely breakfast, read the NY Times for the first time in 2 weeks, and got onto the Garden State Parkway about 10 a.m. Uneventful trip home, taking the usual Outerbridge Crossing, Verrazano Narrows Bridge and Belt/Southern State Parkways. Not even any of the usual crazies on the Belt (I really missed not having the challenge). Arrived home about 2 p.m. Day miles = 372. Accumulate miles = 3178.